Asset Limited, Income Constrained, Employed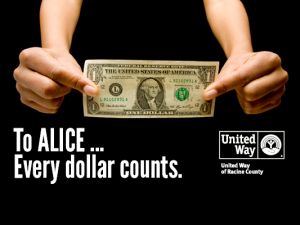 Across Wisconsin, over a third of households struggle to afford the basic necessities of housing, child care, health care, food and transportation. Asset, Limited, Income, Constrained, Employed (ALICE) individuals and families struggle economically but do not fall below the federal poverty line.
2020 United Way ALICE Report
The United Way ALICE Project is a nationwide effort to quantify and describe the number of households that are struggling financially.
The United Way ALICE Reports use standardized measurements to calculate the cost of a bare-bones household budget in each county in each state and to quantify the number of households that cannot afford even that. It is an alternative measure to the outdated Federal Poverty Level, which grossly underestimates the number of struggling families.
ALICE and COVID-19
The 2020 ALICE Report uses data from 2018 to expose the realities of people living below the ALICE threshold. Though the full extent of the impact of COVID-19 on ALICE individuals and families has not yet been determined, the data from this most recent report serves as important background information to the economic disparities that the pandemic has exposed.
Learn more
Learn more about ALICE in Racine County 
Statistics
34 percent of Wisconsin households are living on the edge of financial insecurity. Of this number, 23 percent are ALICE and 11 percent are below the poverty level.
549,313 households in Wisconsin are ALICE, more than double the official poverty rate.
812,273 households are a combination of ALICE and below the federal poverty line in Wisconsin.
24 percent of Racine County households live below the ALICE threshold and 13 percent of households live below the poverty level. This is in contrast to the state numbers, which are 23 percent at the ALICE threshold and 11 percent below the poverty level.