Imagine ...
a community where all children receive a quality education that offers a pathway to a brighter tomorrow. 
United Way of Racine County and our partners are working at critical points along the school spectrum to ensure the academic success of children and youth. United Way is laying the groundwork for future success in school, career and community. We champion education as a cause, mobilizing resources and engaging the whole community in support of our youth.
Funded EDUCATION Programs  
Big Brothers Big Sisters of Racine and Kenosha Counties
Mentoring Elementary Students for Early Grade Success
One-to-One Outcome Based Mentoring for Middle School Students
One-to-One Outcome Based Mentoring for High School Students
Board of Regents of the University of Wisconsin System, University of Wisconsin-Extension
Early Learning and School Readiness Project
Central Racine County Health Department
Family Connects Racine County
Focus on Community
Opportunities Club
John XXIII Educational Center
Middle School Support Program
High School Support Program
Racine Family YMCA
School Achievers
Teen Achievers
Young Achievers
SAFE Haven of Racine County
Girls Inc. Elementary School Programs
Girls Inc. Middle School Programs
Youth for Christ
Parent Life
STRATEGIC PLANNING
In order to create the greatest change in our community, United Way developed a strategic plan that established goals and measurements to guide our work.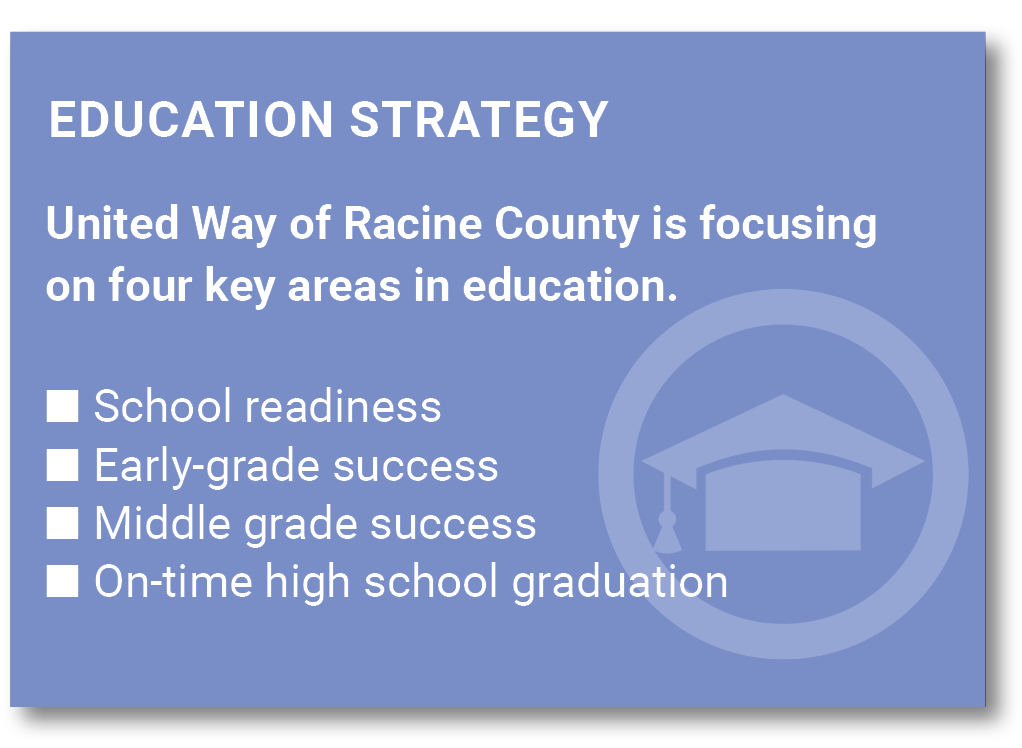 Get Involved in Education Solutions